Asinara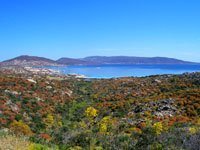 L 'Asinara island, located in the northwestern part of Sardinia, is the second largest after the Sardinian island of Sant'Antioco.
The island is mountainous, with high and rugged coastline, is covered by the typical Mediterranean scrub, and is filled with beaches, coves and bays intact and untouched, such as Cala Reale.
The first name of the island was "Herculis Insula", which later became "Sinuaria", for its sinuous form, up to the current name "Asinara". Several were its uses over the centuries: in the Middle Ages was the site of a monastery, in 1896, evacuated the inhabitants, became agricultural penal colony, during the First World War was used as a concentration camp and care for prisoners of war, in 1934 sanatorium judiciary, and, since 1977 as a maximum security prison.
Today, after the closure of the prison in 1998, is the seat of the national park Asinara. Island living eighty wild species, some of which are unique in the world, as the white donkey, the symbol of the island, and other rare species such as the sea turtle and the snake viper.
The island can be visited with organized tours that start from Stintino, Porto Torres, Santa Teresa di Gallura and Isola Rossa.